You are here: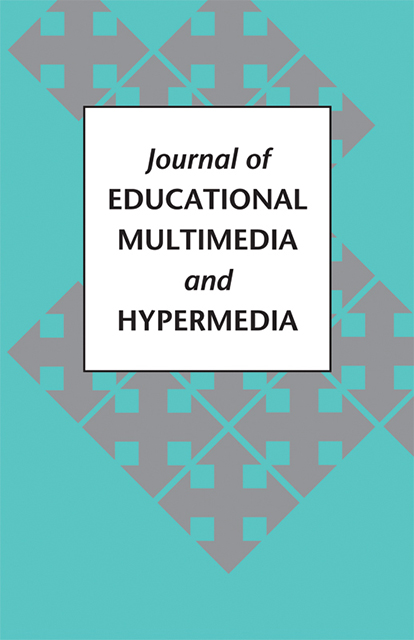 Developing and Modeling Pedagogy with Interactive Video
Journal of Educational Multimedia and Hypermedia Volume 28, Number 1, ISSN 1055-8896 Publisher: Association for the Advancement of Computing in Education (AACE), Waynesville, NC USA
Abstract
Interactive video has become a versatile, easy to use instructional tool that can help teacher educators engage students in active learning, conduct formative assessments and model pedagogical practice. This paper describes how faculty in the Department of Teaching and Learning at a large southeastern university use web-based interactive video tools in graduate and undergraduate courses to help students develop pedagogical skills to create lessons. Examples of how video lessons are used include both teacher and student generated projects. Video projects use created videos and curated video case studies in the field of educational psychology created by classroom experts.
Citation
Musgrove, A., Powers, J., Gonzalez-DeHass, A. & Willems, P. (2019). Developing and Modeling Pedagogy with Interactive Video. Journal of Educational Multimedia and Hypermedia, 28(1), 57-73. Waynesville, NC USA: Association for the Advancement of Computing in Education (AACE). Retrieved November 14, 2019 from https://www.learntechlib.org/primary/p/183588/.
References
View References & Citations Map
Alesandrini, K. & Larson, L. (2002). Teachers bridge to constructivism. The ClearingHouse, 75(3), 118-121.
Allen, I.E., & Seaman, J. (2013). Staying the course: Online education in the United States, 2008. Sloan Consortium. PO Box 1238, Newburyport, MA 01950.
Brame, C.J. (2016). Effective Educational Videos: Principles and Guidelines for Maximizing Student Learning from Video Content. CBE-Life Sciences Education, 15(4), 1-6.
Croxton, R.A. (2014). The role of interactivity in student satisfaction and persistence in online learning. Journal of Online Learning and Teaching, 10(2), 314.
Dweck, C.S. (2006). Mindset: The new psychology of success. New York: Random House. Gagné, R.M. (1985). The conditions of learning and theory of instruction. New York: Holt, Rinehart and Winston.
Gonzalez-DeHass, A.R. & Willems, P.P. (2015). Case study instruction in educational psychology: Implications for teacher preparation. In M. Li& Y. Zhao (Eds.), Exploring Learning and Teaching in Higher Education. Springer.
Heitzmann, R. (2008). Case study instruction in teacher education: Opportunity to develop students' critical thinking, school smarts and decision-making. Education, 128(4), 523-542.
Kent, C., Laslo, E., & Rafaeli, S. (2016). Interactivity in online discussions and learning outcomes. Computers& Education, 97, 116-128.
Kim, H. & Hannafin, M.J. (2008). Situated case-based knowledge: An emerging framework for prospective teacher learning. Teaching and Teacher Education, 24, 1837-1845.
Mayo, J.A. (2002). Case-based instruction: A technique for increasing conceptual application in introductory psychology. Journal of Constructivist Psychology, 15, 65-74.
Mishra, P., & Koehler, M. (2006). Technological pedagogical content knowledge: A framework for teacher knowledge. Teachers College Record, 108(6), 1017-1054.
Pappas, I.O., Giannakos, M.N., & Mikalef, P. (2017). Investigating students' use and adoption of with-video assignments: lessons learnt for video-based open educational resources. Journal of Computing in Higher Education, 29(1), 160-177.
Renkl, A., & Atkinson, R.K. (2007). Interactive learning environments: Contemporary issues and trends. An introduction to the special issue.
Rose, E., Claudius, I., Tabatabai, R., Kearl, L., Behar, S., & Jhun, P. (2016). The Flipped Classroom in Emergency Medicine Using Online Videos with Interpolated Questions. The Journal of Emergency Medicine, 51(3), 284-291.
Rule, A.C. (2006). Editorial: The components of authentic learning. Journal of Authentic Learning, 3(1), 1-10.
Sudzina, M.R. (1997). Case study as a constructivist pedagogy for teaching educational psychology. Educational Psychology Review, 9(2), 199-218.
Wei, H.C., Peng, H., & Chou, C. (2015). Can more interactivity improve learning achievement in an online course? Effects of college students' perception and actual use of a course-management system on their learning achievement. Computers& Education, 83, 10-21.
Wiggins, G.P., & McTighe, J. (2005). Understanding by Design. Alexandria, VA: Association for Supervision and Curriculum Development Musgrove, Powers, Gonzalez-DeHass, and Willems Digital Tool Links and Examples Edpuzzle https://edpuzzle.com
These references have been extracted automatically and may have some errors. Signed in users can suggest corrections to these mistakes.
Suggest Corrections to References