You are here: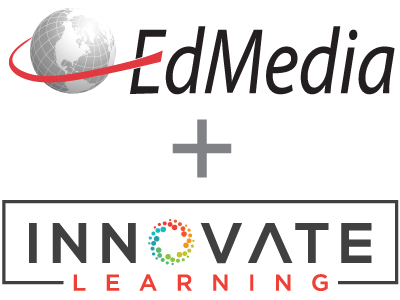 ComunicARTE: Developing communicative competences in Primary through teaching thinking and cooperative work
PROCEEDINGS
EdMedia + Innovate Learning, in Montreal, Quebec, Canada ISBN 978-1-939797-16-2 Publisher: Association for the Advancement of Computing in Education (AACE), Waynesville, NC
Abstract
The purpose of this communication is twofold: Firstly, to present the project ComunicARTE as a teaching-Learning system (which implements mobile devices) designed to develop thinking skills and dispositions in the classroom through their infusion into the subject Language and Literature in 5th grade of Primary School. This project emerges as a result of several years of innovation in Irabia-Izaga School (Pamplona), by one of the authors of this communication in collaboration with the Vice Principal of the School. Secondly, to describe the research design developed to evaluate empirically the benefits of the project.
Citation
Lara, S., González-Torres, M.C., Gonzalez, A. & Muracciole, N. (2015). ComunicARTE: Developing communicative competences in Primary through teaching thinking and cooperative work. In S. Carliner, C. Fulford & N. Ostashewski (Eds.), Proceedings of EdMedia 2015--World Conference on Educational Media and Technology (pp. 16-21). Montreal, Quebec, Canada: Association for the Advancement of Computing in Education (AACE). Retrieved December 10, 2019 from https://www.learntechlib.org/primary/p/151282/.
Keywords
References
View References & Citations Map
Boekaerts, M. (1996). Self-regulated learning at the junction of cognition and motivation. European Psychologist, 1, 100–112.
Burden, R. & Nichols, L. (2000). Evaluating the process of introducing a thinking skills programme into the secondary school curriculum. Research Papers in Education, 15 (3), 293-306
Buzan, T. (2013). Como crear mapas mentales. Urano. Claxton, G., M. Chambers, et al.(2011). The learning powered school:Pioneering 21s century education. Bristol: TLO Limited
Costa, A.L. (2000). Components of a well-developed thinking skills program. Seattle, WA: New Horizons. Www.newhorizons.org/strategies/thinking/costa2.htm
Efklides, A. (2011) Interactions of Metacognition With Motivation and Affect in Self-Regulated Learning:,46 (1), 6–25, 2011
Gardner, H. (1983). Frames of mind, the theory of multiple intelligences. New York: Basic Books. Gavari, E.Y Lara, S. (2010). El enfoque de competencias en la educación del ciudadano del siglo XXI. En. Naval, C., Lara, S., Ugarte, C.Y Sádaba, Ch. (Eds.) Educar para la comunicación y la cooperación social (pp. 33-54). Pamplona.
González Torres. M.C. (1997). La motivación académica: Sus determinantes y pautas de intervención. Pamplona: EUNSA
Lara, S. (2001). Una estrategia eficaz para fomentar la cooperación. Estudios sobre Educación, 1, 99-110.
Lara, S. (2008). Las competencias básicas necesarias para los ciudadanos del S. XXI: Una revisión de los principales estudios internacionales. Comunicaciones del XIV Congreso Nacional y III Iberoamericano de Pedagogía. Editado por Sociedad Española de Pedagogía (pp. 1699-1707). Madrid
McGuinness, C. (2005). Teaching Thinking: Theory and practice. British Journal of Educational Psychology, Special Monograph Series, pedagogy –Learning for teaching, nº 3, 107-127
Moos D.C. And Ringdal, A. (2012) Self-Regulated Learning in the Classroom: A Literature Review on the Teacher's Role. Education Research International Volume 2012), Article ID 423284, 15 pages
Perkins, D.N., Tishman, S., Ritchhart, R., Donis, K., & Andrade. A. (2000). Intelligence in the wild: A dispositional view of intellectual traits. Educational Psychology Review, 12(3), 269-293.
Ritchhart, R. (2002). Intellectual Character: What It Is, Why It Matters, and How to Get It (San Francisco, CA: Jossey-Bass
Ritchhart, R. And Perkins, D. (2008) "Making Thinking Visible," Educational Leadership 65 (5) 57-61.
Ritchhart, R. (2001). From IQ to IC: A dispositional View of Intelligence. Roeper Review, 23 (3)143-150
Walsh, G., McGuinness, C., Sproule, L. And Trew, K. (2010) Implementing a Play-based and Developmentally Appropriate Curriculum in NI Primary Schools: What Lessons have we Learned, Early Years: an International Journal of Research and Development, 30: 1, 53-66
Whitebread, D. (2014). The importance of self-regulation for learning from birth. In H. Moylett (Ed.). Characteristics of Effective Learning: helping young children become learners for life (pp. 15-35). Maidenhead:
These references have been extracted automatically and may have some errors. Signed in users can suggest corrections to these mistakes.
Suggest Corrections to References