You are here:
A Framework for Addressing Challenges to Classroom Technology Use
Article
Jennifer Groff, Massachusetts Institute of Technology, United States ; Chrystalla Mouza, University of Delaware, United States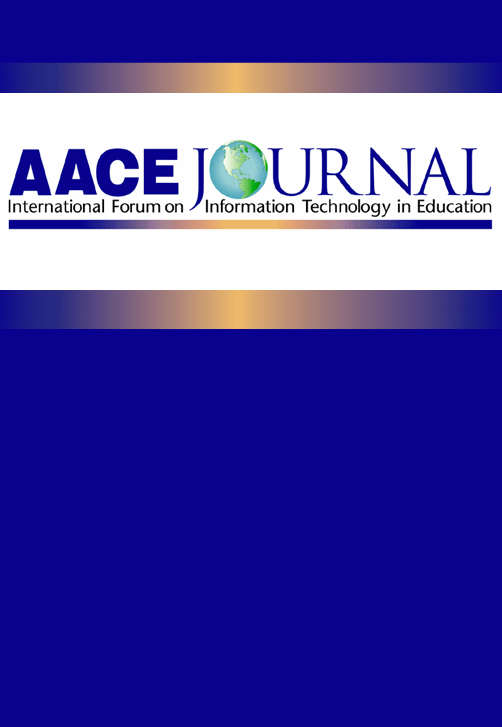 AACE Journal Volume 16, Number 1, ISSN 1065-6901 Publisher: Association for the Advancement of Computing in Education (AACE), Chesapeake, VA
Abstract
Creating effective learning environments with technology remains a challenge for teachers. Despite the tremendous push for educators to integrate technology into their classrooms, many have yet to do so and struggle to find consistent success with technology-based instruction. The challenges to effective technology integration have been well-documented in the literature. In this article we present a comprehensive review of the literature on the challenges associated with effective technology integration in the classroom and the ways in which they interact with one another. Based on this review we have developed a framework, the Individualized Inventory for Integrating Instructional Innovations (i5), to help teachers predict the likelihood of success of technology-based projects in the classroom and identify potential barriers that can hinder their technology integration efforts. Identifying potential barriers upfront can empower teachers to seek solutions early in the process, thereby increasing the likelihood of experiencing success with technology integration.
Citation
Groff, J. & Mouza, C. (2008). A Framework for Addressing Challenges to Classroom Technology Use. AACE Journal, 16(1), 21-46. Chesapeake, VA: Association for the Advancement of Computing in Education (AACE). Retrieved November 24, 2017 from https://www.learntechlib.org/p/24421/.
Keywords
References
Bowman , D . (2004) . Th ink ing through the techno logy puzz le . From Now On: The Educational Technology Journal , 14(1) . Retrieved October 23 , 2006 , from h t tp : / /www .fno .org /oc t04 / in tegra t ing .h tm l
Chaptal , A . (2002) . Is the investment really worth it? Educa t iona l Med ia International , 39 (1), 87-99.
Cuban , L . (2002) . Overso ld and underused: Compu ters in the c lassroom . Cambridge , MA: Harvard University Press .
Dede , C . (1997) . Re th ink ing how to inves t in techno logy . Educa t iona l Leadership , 55 (3) , 12-16 .
Hanks , R . (2002 , June) . Env ironmen ta l and persona l fac tors effec t ing K-12 teacher u t i l iza t ion of techno logy . Proceed ings o f the23rd Na t iona l Educa t iona l Compu t ing Con ference (pp . 1-15) , San Antonio , TX . (ERIC Documen t Reproduc t ion Serv ice No . ED475934)
LeBaron , J . (2001) . Curr icu lum p lann ing for techno logy-r ich ins truc t ion . In Lebaron , J . , & Collier , C . (Eds .) , Techno logy in i ts p lace: Success fu l techno logy in fus ion in schoo ls . Jossey-Bass Reader (pp . 17-29) . San Franc isco , CA : Jossey-Bass .
McGhee, R., & Kozma, R. (2003, April). New teacher and student roles in the technology-supported classroom. Paper presented at the annual meeting of the American Educational Research Association, Seattle, WA.
Moersch , C . (1999) . Leve ls of techno logy imp lemen ta t ion : An inven tory for measur ing c lassroom techno logy use . Learn ing and Lead ing w i th Technology , 26(8) , 59-63 .
These references have been extracted automatically and may have some errors. If you see a mistake in the references above, please contact info@learntechlib.org.