You are here: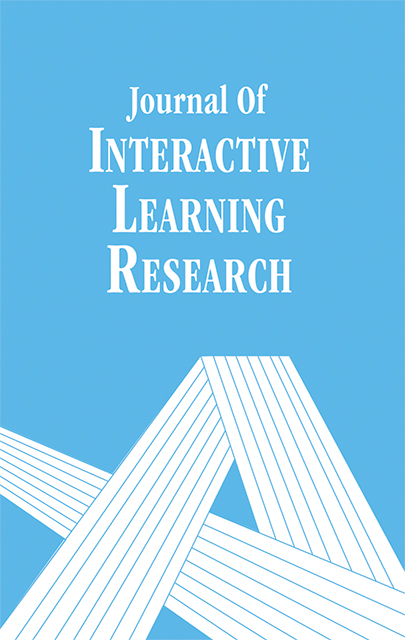 Foundation for Measuring Engagement in Educational Games
Article
Kristian Kiili, Tampere University of Technology, Finland ; Timo Lainema, Turku School of Economics, Finland
Journal of Interactive Learning Research Volume 19, Number 3, ISSN 1093-023X Publisher: Association for the Advancement of Computing in Education (AACE), Waynesville, NC
Abstract
** Invited as a paper from ED-MEDIA 2006 **
This study is part of an ongoing attempt to develop a usable and valid scale for assessing the flow experience in educational games. The purpose of the paper is to operationalize the dimensions of flow experience in an educational game context and to test a constructed GameFlow questionnaire. Furthermore, the study strives to validate flow antecedents, the factors contributing to flow experience, proposed in game design models such as the experiential gaming model. The flow antecedents and the GameFlow questionnaire were studied through a business simulation game, which was used in a university level course (N = 92). Results indicate that the flow antecedents studied contributed to the flow experience and should be considered in educational game design. Furthermore, the results provided some baseline evidence for the assumption that flow experience has a positive impact on learning. Overall, these results indicate that the experiential gaming model and the GameFlow questionnaire are useful tools for studying gaming experience and can be used in educational game design.
Citation
Kiili, K. & Lainema, T. (2008). Foundation for Measuring Engagement in Educational Games. Journal of Interactive Learning Research, 19(3), 469-488. Waynesville, NC: Association for the Advancement of Computing in Education (AACE). Retrieved March 22, 2023 from https://www.learntechlib.org/primary/p/24197/.
Keywords
References
View References & Citations Map
Amory, A. & Seagram, R. (2003). Educational game models: Conceptualization and evaluation. South African Journal of Higher Education, 17, 206-217.
Barrows, H.S. & Tamblyn, R.N. (1980) Problem-based learning: An approach to medical education, New York, Springer.
Brown, J., Collins, A., & Duguid, P. (1989). Situated cognition and the culture of learning. Educational researcher, 18, 32-41.
Chen, H., Wigand, R., & Nilan, M. S. (1999). Optimal experience of web activities. Computers in Human Behavior, 15, 585-608.
Csikszentmihalyi, M. (1975). Beyond boredom and anxiety. San Francisco: Jossey-Bass. Csikszentmihalyi, M. (1991). Flow: The Psychology of Optimal Experience. New York: Harper Perennial.
Duley, D.S. (1981). Field experience education. In A.W. Chickering (Eds), The modern American college (pp. 600-613). San Francisco: Jossey-Bass.
Elgood, C. (1996). Using Management Games. 2nd edition, Gower Press, Aldershot, England. Engel, C. (1997) Not Just a Method But a Way of Learning. In D. Boud, and G. Feletti (eds). The Challenge of Problem-based Learning. Second edition, London, Kogan Page.
Ermi, L. & Mäyrä, F. (2005). Fundamental components of the gameplay experience: Analysing immersion. In S. De Castell & J. Jenson (Ed.), Changing views: Worlds in play - selected papers of the 2005 Digital Games Research Association's Second International Conference, (pp. 15-27). Vancouver: Digital Games Research Association & Simon Fraser University. Ghani, J.A. (1991). Flow in Human-Computer Interactions: Test of a Model. In J. Carey (Eds.), Human Factors in Management Information systems: Emerging Theoretical bases. Ablex New Jersey: Publishing Corp.
Ghani, J. & Deshpande, S. (1994). Task characteristics and the experience of optimal flow in human-computer interaction. The Journal of Psychology, 128, 381-391.
Greenlaw, P. S., Herron, L. W. & Rawdon, R. H. (1962). Business Simulation in Industrial and University Education. Prentice-Hall, Inc., Englewood Cliffs, N.J.
Kolb, D. (1984). Experiential learning: experience as the source of learning and development. New Jersey: Prentice Hall.
Kiili, K. (2005a). On Educational Game Design: Building Blocks of Flow Experience. Tampere, Finland: Tampere University of Technology Press.
Kiili, K. (2005b). Digital Game-based Learning: Towards an Experiential Gaming Model. The Internet and Higher Education, 8, 13-24.
Kiili, K. (2005c). Content Creation Challenges and Flow Experience in Educational Games: The IT-Emperor Case. The Internet and Higher Education, 8, 183-198.
Lainema, T. (2004). Redesigning the Traditional business gaming process: Aiming to capture business process authenticity. Journal of Information Technology Education, 3, 35-52. Lainema, T. & Nurmi, S. (2006) Applying an authentic, dynamic learning environment in real world business. Computers & Education, 47, 94–115.
Lave, J., & Wenger, E. (1990). Situated learning: legitimate periperal participation. Cambridge, UK: Cambridge University Press.
Malone, T. (1980). What Makes Things Fun to Learn? A Study of omputer Games. Palo Alto, CA: Xerox Research Center.
Malone, T. (1981). Toward a theory of intrinsically motivating instruction. Cognitive Science, 4, 333-369.
Miller, G. (1956) The magical number seven, plus or minus two: some limits on our capacity for processing information, Psychological Review, 63, 81-97.
Moreno, R. & Mayer, R. E. (2005). Role of guidance, reflection, and interactivity in an agent-based multimedia game. Journal of Educational Psychology, 97, 117-128.
Novak, T. P., Hoffman, D. L., & Yung, Y. F. (2000). Measuring the flow construct in online environments: A structural modeling approach. Marketing Science, 19, 22–42.
Phillips, D.C. (1995). The good, the bad, and the ugly: the many faces of constructivism. Educational Researcher, 24, 5–12.
Prensky, M. (2001). Digital Game-Based Learning. New York: McGraw-Hill.
Quinn, C.N. (1994). Designing educational computer games. In K. Beattie, C. McNaught, & S. Wills (Eds), Interactive multimedia in university education: Designing for change in teaching and learning (pp. 45-57). Amsterdam: Elsevier.
Rollings, A. & Adams, E. (2003). Andrew Rollings and Ernest Adams on Game design. USA: New Riders.
Salen, K. & Zimmerman, E. (2004). Rules of Play: Game Design Fundamentals. Cambridge MA, The MIT Press.
Saunders, D. (1995). Introducing Simulations and Games for Business. In Saunders, D. (ed.) The Simulation and Gaming Workbook Volume 3: Games and Simulations for Business. Kogan Page, London, pp. 13-20.
Skadberg, Y. X., & Kimmel, J. R. (2004). Visitors' flow experience while browsing a web site: Its measurement, contributing factors, and consequences. Computers in Human Behavior, 20, 403-422.
Suhonen, J. (2005). A formative development method for digital learning environments in sparse learning communities. Ph.D. Thesis, University of Joensuu.
Swaak, J., & De Jong, T. (1996) Measuring intuitive knowledge in science: The development of the what-if test. Studies in Educational Evaluation, 22, 341–362.
Thavikulwat, P. (1996). Activity-Driven Time in Computerized Gaming Simulations. Simulation & Gaming, 27, 110-122.
Webster, J., Trevino, L. K., & Ryan, L. (1993) The dimensionality and correlates of flow in human-computer interaction. Computers in Human Behavior, 9, 411-426.
Whicker, M. L. & Sigelman, L. (1991). Computer Simulation Applications, An Introduction. Sage Publications, London.
Voelkl, J. E. & Ellis, G. D. (1998). Measuring flow experiences in daily life: An examination of the items used to measure challenge and skill. Journal of Leisure Research, 30, 380-389.
These references have been extracted automatically and may have some errors. Signed in users can suggest corrections to these mistakes.
Suggest Corrections to References