You are here: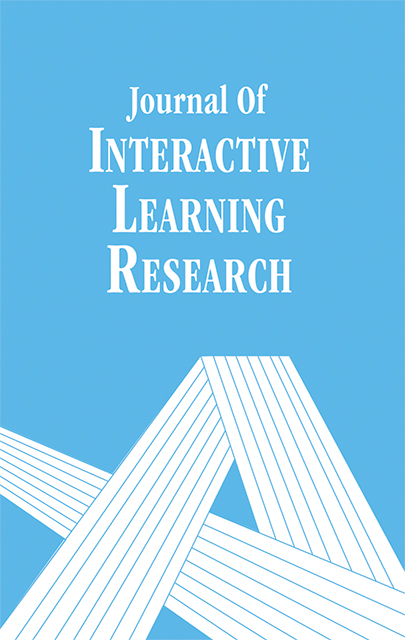 Supporting Oral Narrative Development of Kindergarten English Language Learners Using Multimedia Stories
article
Sha Yang, University of Houston-Clear Lake, United States
Journal of Interactive Learning Research Volume 27, Number 4, ISSN 1093-023X Publisher: Association for the Advancement of Computing in Education (AACE), Waynesville, NC
Abstract
Narrative ability comes before literacy for bilingual students and helps narrow down the gap in text-level literacy between English language learners (ELLs) and native English speakers. Kindergarten ELLs are the best age group to receive intervention to improve their oral narrative skills. Multimedia stories have potential to assist kindergarten ELLs in developing oral narrative skills, but in previous studies, children viewed them without any support or interaction with adults, and few studies addressed how to incorporate adult intervention into children's viewing of multimedia stories to enhance their oral narrative development. Grounded in Plass and Jones' (2005) model of multimedia-supported cognitive processing in second-language acquisition, this paper proposed how to teach vocabulary words and implement dialogic reading while ELL children view multimedia stories to try to improve their oral narrative skills. Finally, future research directions were suggested.
Keywords: multimedia stories, kindergarten ELLs, oral narrative skills, vocabulary instruction, dialogic reading
Citation
Yang, S. (2016). Supporting Oral Narrative Development of Kindergarten English Language Learners Using Multimedia Stories. Journal of Interactive Learning Research, 27(4), 381-397. Waynesville, NC: Association for the Advancement of Computing in Education (AACE). Retrieved August 12, 2020 from https://www.learntechlib.org/primary/p/172691/.
References
View References & Citations Map
Dockrell, J.E., Stuart, M., & King, D. (2010). Supporting early oral language skills for English language learners in inner city preschool provision. British Journal of Educational Psychology, 80, 497-515.
Eshet-alkalai, Y., & Chajut, E. (2007). Living books: The incidental bonus of playing with multimedia. Journal of Educational Multimedia and Hypermedia, 16 (4), 377-388.
Kieffer, M.J. (2008). Catching up or falling behind? Initial English proficiency, concentrated poverty and the reading growth of language minority learners in the United States. Jourtial of Educational Psychology, 100, 851-868.
Labov, W. (1972). Language in the inner city: Studies in the Black English vernacular. Philadelphia: University of Pennsylvania Press.
Lacelle-Peterson, M.W., & Rivera, C. (1994). Is it real for all kids? a framework for equitable assessment policies for English language learners. Harvard Educational Review, 64 (1), 55-75.
Lefever-Davis, S., & Pearman, C. (2005). Early readers and electronic texts: Factors that influence reading behaviors. The Reading Teacher, 58(5), 446454.
Lever, R., & Sénéchal, M. (2011). Discussing stories: On how a dialogic reading intervention improves kindergartners' oral narrative construction. Journal of Experimental Child Psychology, 108, 1-24.
McKenna, M.C. (1998). Electronic texts and the transformation of beginning reading. In D. Reinking, M.C. McKenna, L.D. Labbo, & R.D. Kieffer (Eds.) Handbook of literacy and technology: Transformations in a posttypographic world. (pp. Supporting Oral Narrative Development of Kindergarten English 395 Moody, A.K. (2007). Engagement and communication during shared storybook reading: a comparison of electronic and traditional books for preschoolers who are at-risk. (Doctoral dissertation). Retrieved from ProQuest. (3280021)
Patterson, J.L. (2002). Relationships of expressive vocabulary to frequency of reading and television experience among bilingual toddlers. Applied Psycholinguistics, 23 (4), 493-508.
Purcell-gates, V. (1988). Lexical and syntactic knowledge of written narrative held by well-read-to kindergarteners and second graders. Research in the Teaching of English, 22, 128–160.
Purcell-gates, V. (2001). Emergent literacy is emerging knowledge of written, not oral, language. New Directions for Child and Adolescent Development, 92, 7–22.
Sénéchal, M. (1997). The differential effect of storybook reading on preschoolers' acquisition of expressive and receptive vocabulary. Journal of Child Language, 24, 123–138.
Strauss, V. (2012, august 24). What to do-and not do-for growing number of English Language Learners. The Washington Post. Retrieved from http://www.washingtonpost.com/blogs/answer-sheet/post/what-to-do--and-notdo--for-growing-number-of-english-language-learners/2012/08/23/a1b45c0aed81-11e1-a80b-9f898562d010_blog.html
Tabors, P., Roach, K., & Snow, C.E. (2001). Home language and literacy environment: Final results. In D. Dickinson& P. Tabors (Eds.), Beginning literacy with language (pp. 111–138). Baltimore: Brookes.
Uchikoshi, Y. (2006). English vocabulary development in bilingual kindergarteners: What are the best predictors? Bilingualism: Language and Cognition, 9 (1), 33-49.
United States Department of Education. (2015, May). English language learners. Retrieved from http://nces.ed.gov/programs/coe/indicator_cgf.asp Verhallen, M.J.A.J., Bus, A.G., & De Jong, M.T. (2006). The promise of multimedia stories for kindergarten children at risk. Journal of Educational
Xu, S. (2010). Teaching English Language Learners: Literacy Strategies and Resources for K-6. New York, nY: The guilford Press.
These references have been extracted automatically and may have some errors. Signed in users can suggest corrections to these mistakes.
Suggest Corrections to References