You are here: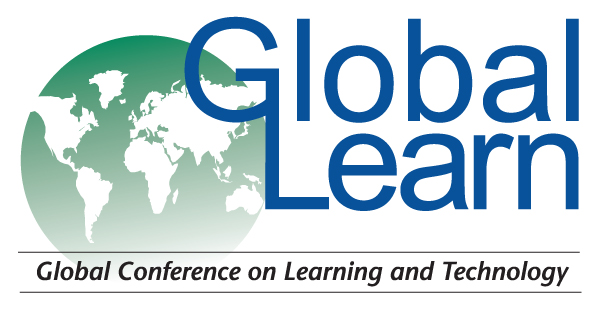 Distributed Learning 3.0: Past to Future
PROCEEDINGS
Michael Yacci, Rochester Institute of Technology, United States
Global Learn, in Berlin, Germany Publisher: Association for the Advancement of Computing in Education (AACE)
Abstract
This paper provides a historical perspective on the evolution of Distributed Learning and ties it to the evolution of the World Wide Web. Web 1.0 provides a passive, transmissive approach that is paralleled by the early forms of stand-alone computer based training. Web 2.0 provides an opportunity for end users to participate as content developers. In like manner, Distributed Learning 2.0 moves through a stage in which students are contributors to course – theories emerge to support a constructivist approach. Web 3.0 speculates that the Internet will become contextually aware. Distributed Learning 3.0 similarly predicts the blossoming of trends and techniques in adaptive learning.
Citation
Yacci, M. (2015). Distributed Learning 3.0: Past to Future. In Proceedings of Global Learn Berlin 2015: Global Conference on Learning and Technology (pp. 681-686). Berlin, Germany: Association for the Advancement of Computing in Education (AACE). Retrieved April 2, 2020 from https://www.learntechlib.org/primary/p/150960/.
Keywords
References
View References & Citations Map
Asiri, O.I.Y. (2015). A Comparison Between International and US Graduate Students' Attitudes and Experiences Using Massive Open Online Courses (MOOCs). Thesis, MS Human Computer Interaction, Rochester Institute of Technology.
Bell, B.S. & Kozlowski, S.W.J. (2006).Distributed learning system design: A new approach and an agenda forfuture research(CAHRS Working Paper #06-07). Ithaca, NY: Cornell University, School of Industrial andLabor Relations, Center for Advanced Human Resource Studies. Http://digitalcommons.ilr.cornell.edu/cahrswp/406 Berners-Lee, T. (2009) The Next Web. TED2009. Http://www.ted.com/talks/tim_berners_lee_on_the_next_web#t-353916
Bullard, J., Alm, C.O., Yu, Q., Shi, P., and Haake, A. (2014). Towards multimodal modeling of physicians' diagnostic confidence and self-awareness using medical narratives. Proceedings of COLING 2014, the 25th International Conference on Computational Linguistics: Technical Papers, pages 1718–1727, Dublin, Ireland
Brusilovsky, P. (2001). Adaptive Hypermedia. User Modeling and User-Adapted Interaction, 11: 87-110,
Clark, R.E. (1983) "Reconsidering Research on Learning from Media." Review of Educational Research 53(4): 445-459. Dede, Chris. The Transformation of Distance Education to Distributed Learning. Available http://www.hbg.psu.edu/bsed/intro/docs/distlearn/, July, 1995
Goldman, J., Shilton,K., Burke,J., Estrin, D., Hansen, M., Ramanathan, N., Reddy, S., Samanta,V., Srivastava, M. And West, R. (2009). Participatory Sensing: A citizen-powered approach to illuminating the patterns that shape our world. White Paper. Http://www.wilsoncenter.org/foresight/ Jonassen D.H. (1999). Designing constructivist learning environments. In C.M. Reigeluth (Ed.) Instructional-design theories and models: a new paradigm of instructional theory, Vol. 2.. Mahwah, NJ: Lawrence Erlbaum.
Koedinger, K.R., Anderson, J.R., Hadley, W.H., and Mark, M.A. (1997). Intelligent Tutoring goes to School in the Big City. International Journal of Artificial Intelligence in Education (1997), 8,30-43
Ley, T., Kump, B., Lindstaedt, S.N., Albert, D., Maiden, N.A.M., and Jones, S.V. (2006). Competence and Performance in Requirements Engineering: Bringing Learning to the Workplace. In E. Tomadaki and P. Scott (Eds.): Innovative Approaches for Learning and Knowledge Sharing, EC-TEL 2006 Workshops Proceedings, ISSN 1613-0073, P. 148-158.
Morozov, E. (2011) Your Own Facts. New York Times Sunday Book Review, June 10, 2011.
O'Reilly, T. (2005). What is Web 2.0. Http://www.oreilly.com/pub/a/web2/archive/what-is-web-20.html
Pariser, E. (2011). Filter Bubble: What the Internet is hiding from you. New York: The Penguin Press.
Russell, T.L. (2001) The No Significant Difference Phenomenon: A Comparative Research Annotated Bibliography on Technology for Distance Education. IDECC, Montgomery, AL
Schank, R. And Neaman, A. (2001) Motivation and Faulure in Education Sumulation Design. In K.D. Forbus and P.J. Feltovich (Eds) Smart Machines in Education. Menlo Park, CA: AAAI Press
Shadbolt, N., Hall,W., & Berners-Lee, T. (2006). The Semantic Web Revisited. IEEE Intelligent Systems. 96-101 Shanley, M.G., Crowley, J.C., Lewis, M.W.Straus, S.G., Leuschner, K.J., and Coombs, J. (2012). Making Improvements to the Army Distributed Learning Program. Rand Corporation. Http://www.rand.org/content/dam/rand/pubs/monographs/2012/RAND_MG1016.pdf Stoll, S., Yacci, M. & Rozanski, E. (2013). A Contextual Inquiry into Information Trails for Transactive Memory Systems. In. Jan Herrington et al. (Eds.), Proceedings of World Conference on Educational Media and Technology 2013 (pp. 1147-1154). Association for the Advancement of Computing in Education (AACE).
Triantafillou, E., Pomportsis, A., and Demetriadis, S. (2003). The design and the formative evaluation of an adaptive educational system based on cognitive styles. Computers& Education 41 (2003) 87–103
Yacci, M. (1999). The Knowledge Warehouse: Reusing Knowledge Components. Performance Improvement Quarterly, v12 n3 p132-40
Yacci, M. (2000). Interactivity Demystified: A Structural Definition for Online Learning and Intelligent CBT. Educational Technology (July/August 2000)
Yacci, M. (2005). The Promise of Automated Interactivity, in K.D. Althoff et al. (Eds.) WM 2005, LNAI 3782, pp 214-221. Springer Verlag
Yacci, M. And Rozanski, E.P. (2012). Student information consumption strategies: implications of the Google effect. IConference '12, Proceedings of 2012 iConference, Pages 248-253
These references have been extracted automatically and may have some errors. Signed in users can suggest corrections to these mistakes.
Suggest Corrections to References