You are here: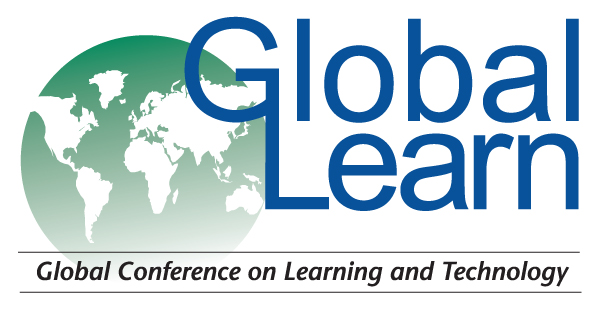 How Do Blogs and Wikis Support Social Constructivist Learning in Math
PROCEEDINGS
Rana Zein, Zayed University, United Arab Emirates
Global Learn, in Berlin, Germany Publisher: Association for the Advancement of Computing in Education (AACE)
Abstract
Abstract: Based on the interpretive mixed method case study, this study examines the uses of some Web 2.0 tools in Math at the school level in Lebanon. The research question discussed is:" How do Blogs and Wikis support social constructivist learning in math classes?" Data was collected from a questionnaire and interviews with focus group students and their teacher. The themes that emerged from the data analysis were the following: the ability to use blog and wiki as a tool for collaboration, knowledge construction and reflection which are the major areas supporting social constructivist learning. This article concludes that although blogs and wikis allowed collaboration, reflection and knowledge construction, the students did not use them as such naturally and independently. The teacher had a clear role in preparing collaborative and reflective learning activities that support knowledge construction and ensured that students had the skills to successfully reflect on the activity that
Citation
Zein, R. (2015). How Do Blogs and Wikis Support Social Constructivist Learning in Math. In Proceedings of Global Learn Berlin 2015: Global Conference on Learning and Technology (pp. 18-27). Berlin, Germany: Association for the Advancement of Computing in Education (AACE). Retrieved July 10, 2020 from https://www.learntechlib.org/primary/p/150843/.
Keywords
References
View References & Citations Map
Boyd, D., & Ellison, N.B. (2007). Social network sites: definition, history, and scholarship [Electronic Version]. Journal of Computer-Mediated Communication, 13(1). Retrieved 27/8/2011 from http://jcmc.indiana.edu/vol13/issue1/boyd.ellison.html.
Downes, S. (2004). Educational blogging. EDUCAUSE Review, 9 (5): 14-26. (ON-LINE Retrieved from http://www.educause.edu On 23/3/2011).
Garrison, D.R.(2003). Cognitive presence for effective asynchronous online learning: the role of reflective inquiry, self-direction and metacognition. In J. Bourne & J.C. Moore (eds.), Elements of Quality Online Education: Practice and Direction, 47–58.
Grangberg, C. (2010). Social software for reflective dialogue: questions about reflection and dialogue in student teachers' blogs. Technology, Pedagogy and Education. 19(3), 345-360.
Hatzipanagos, S. And Warburton, S. (2009). Feedback as dialogue: exploring the links between formative assessment and social software in distance learning. Learning, Media and Technology, 34: 1, 45 — 59
Heafner, T., & Friedman, A. (2008). Wikis and Constructivism in Secondary Social Studies: Fostering a Deeper Understanding. Computers in the Schools, 25(3/4), 288-302.
Herring,M.C.(2004). Development of constructivist-based distance learning environments. The Quarterly Review of Distance Education, 5(4), 231-242.
Hiler, J. (2002). Blogs as disruptive tech: How Weblogs are flying under the radar of the content of management giants. (ONLINE Retrieved on 22/4/2012 from http://www.novelbooksinc.com/ourstories/blogsdisruptivetech.htm)
McLeod, J.K., & Vasinda, S. (2009). Electronic portfolios: Perspectives of students, teachers and parents. Education and Information Technologies, 14(1), 29-38.
Monteith, M., & Smith, J. (2001). Learning in a virtual campus: The pedagogical implications of students' experiences. Innovations in Education and Teaching International, 38(2), 119-132.
Salomon, G. (1985). Information technologies: What you see is not (always) what you get. Educational Psychologist, 20(4), 207216.
Solomon, G., & Schrum, L. (2007). Web 2.0: New tools, new schools.Washington, DC: International Society for Technology in Education.
Walther. (1996).Computer-mediated communication:Impersonal, interpersonal& Hyperpersonal interaction.Communication Research,23(1), 3-43.
Wang, S.K. And Hsua, Y. (2008). Reflections on using Blogs to expand in-class discussion. TechTrends. 52(3). May/June 2008.
Wheeler, S. (2009). Destructive creativity on the social web: Learning through wikis in higher education. In Handbook of Research on Social Software and Developing Community Ontologies, ed. S. Hatzipanagos and S. Warburton, 497–510. Hershey, PA: IGI Global.
Woodward, H., & Nanlohy, P. (2004). Digital portfolios: Factor fiction. Assessment and Evaluation in Higher Education, 29(2).
These references have been extracted automatically and may have some errors. Signed in users can suggest corrections to these mistakes.
Suggest Corrections to References