You are here: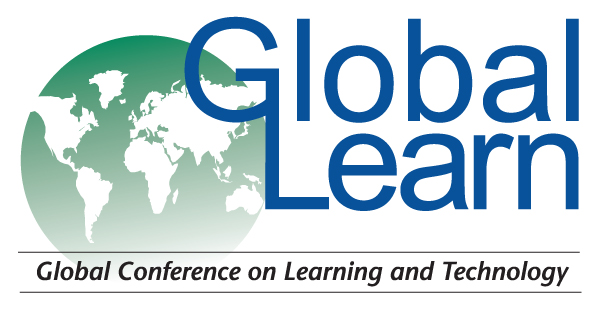 Educating Teachers for the Knowledge Society: Social Media, Authentic Learning and Communities of Practice
PROCEEDINGS
Hanna Teräs, Marjatta Myllylä, Tampere University of Applied Sciences / School of Vocational Teacher Education, Finland
Global Learn, in Melbourne, Australia ISBN 978-1-880094-85-3 Publisher: Association for the Advancement of Computing in Education (AACE)
Abstract
This paper introduces a new approach to preservice and in-service teacher education, based on the principles of authentic and inquiry-based learning taking place in social media environments. In order to promote the students' acquisition of the skills and competences needed in the knowledge society working environment, it is essential that the new generation of teachers are able to put aside some of the traditional concpetions of teaching and learning that derive from the industrial age system and learn to build a new type of professional identity. This paper introduces building a community of practice for networking and sharing of expertise with the help of social media as one solution to this question. Both theoretical background for the program and teachers' and students' experiences with it are discussed in the paper.
Citation
Teräs, H. & Myllylä, M. (2011). Educating Teachers for the Knowledge Society: Social Media, Authentic Learning and Communities of Practice. In S. Barton, J. Hedberg & K. Suzuki (Eds.), Proceedings of Global Learn Asia Pacific 2011--Global Conference on Learning and Technology (pp. 1012-1020). Melbourne, Australia: Association for the Advancement of Computing in Education (AACE). Retrieved June 5, 2020 from https://www.learntechlib.org/primary/p/37292/.
References
View References & Citations Map
Bielaczyc K., Collins A. (2006). Fostering Knowledge-Creating Communities. In O'Donnell et al. (Eds.) Collaborative Learning, Reasoning and Technology (pp. 37-60). New Jersey: Lawrence Erlbaum Associates.
Castells, M. (2007). Communication, power and counter-power in the network society. International Journal of Communication (1)1, 238-266.
Dickey, M.D. (2005). Three-dimensional virtual worlds and distance learning: two case studies of Active Worlds as a medium for distance education. British Journal of Educational Technology 36(3) 439– 451.
Florida, R. (2002). The Rise of the Creative Class (...and how it's transforming work, leisure, community& Everyday life). New York: Basic books.
Hakkarainen, K., Lipponen, L., & Järvelä, S. (2001). Epistemology of Inquiry and Computer-Supported
Isaacs, W. (1999). Dialogue and the Art of Thinking Together: a pioneering approach to communicating in business and life. New York: Currency.
Jarmon, L., Traphagan, T., Mayrath, M. & Trivedi, A. (2009). Virtual world teaching, experiential learning, and assessment: An interdisciplinary communication course in Second Life. Computers& Education 53(1), 169182.
Kapp, K. & O'Driscoll, T. (2010). Learning in 3D: Adding a New Dimension to Enterprise Learning and Collaboration. San Francisco: Pfeiffer.
Kapp, K. (2010). Learning in 3D: How Virtual Environments are Being Leverage to Add Value to Learning and Collaboration. Keynote presentation at the International conference Learning in Different Worlds, October 8, 2010, Lahti.
Land, S., Hannafin, M. (1997). Patterns of understanding with open-ended learning environments: a qualitative study. Education Technology Research and Development. 45(2). 47-73.
Lave, J., & Wenger, E. (1991). Situated learning: Legitimate peripheral participation. Cambridge: Cambridge University Press.
Lynch, M. (2001). The Online Educator: a Guide to Creating the Virtual Classroom. New York, Routledge.
Lombardi, M. (2007). Authentic Learning for the 21st Century: an Overview. In Oblinger, D.G. (Ed.) Educause Learning Initiative Paper 1: 2007.
Myllylä, M., Mäkelä, R., & Torp, H. (2009). Digitaaliset narratiivit ohjauksen haasteena opettajakoulutuksen verkkokeskusteluissa [Digital Narratives as a Challenge for Online Mentoring in Online Discussions of Teacher Students]. In Ihanainen P, Kalli P& Kiviniemi K (Eds.). Verkon varassa – opetuksen pedagoginen
Oliver, R. (2001). Developing e-learning environments that support knowledge construction in higher education. In S. Stoney & J. Burn (Eds). Working for Excellence in the E-conomy. (pp 407-416). Churchlands: Australia,
Solomon, G., Schrum, L. (2007). Web 2.0: New Tools, New Schools. International Society for Technology in Education.
Steinkuehler, C., Williams, D. (2006). Where everybody knows your (screen) name: Online games as "third places." Journal of Computer-Mediated Communication, 11(4), article 1.
Torp, H., Nevalainen, T. (2010). The World Has Changed– What About the Teacher? SITE 2010--Society for Information Technology& Teacher Education International Conference. Volume 2010:1.
Torp, H. (2009). The Changing Teacher and the Internet. In: Pentelenyi P (ed.). Master' s Level Opportunities and Technological Innovation in Vocational Teacher Education. Ligatura.
Trilling, B., Fadel, C. (2009). 21st Century Skills: Learning for Life in Our Times. San Francisco: Jossey-Bass.
Zualkernan, I.A. (2006). A framework and a methodology for developing authentic constructivist e-Learning environments. Educational Technology& Society, 9 (2), 198-212.
Von Wright. (1992). Oppimiskä sitysten historiaa ja pedagogisia seurauksia. [History and pedagogical consequences of conceptions of learning] Opetushallitus.
Wenger, E., McDermott, R., & Snyder, W.M. (2002). Cultivating Communities of Practice. Harvard Business School Press.
These references have been extracted automatically and may have some errors. Signed in users can suggest corrections to these mistakes.
Suggest Corrections to References