You are here: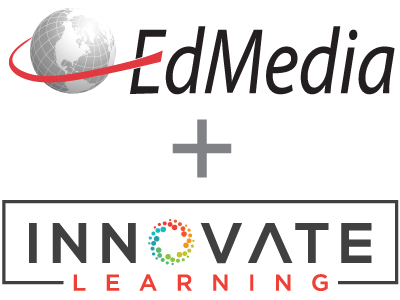 Exploring How Authentic Learning and Multimedia Can Enhance Teaching and Learning, History
PROCEEDINGS
EdMedia + Innovate Learning, in Vienna, Austria ISBN 978-1-880094-65-5 Publisher: Association for the Advancement of Computing in Education (AACE), Waynesville, NC
Abstract
The impact of ICT on education has become a highly contentious area with both its theoretical base and impact increasingly questioned. Rather than discussing the actual impact on teaching and learning, educational administrators and politicians now increasingly refer to the potential to transform. However, the focus of attention has moved towards the learning tasks rather than the technology and here critical skills/authentic learning play a central role. When ICT and authentic learning combine, the potential of new technologies is realised.
Citation
Hillis, P. & Calderhead, A. (2008). Exploring How Authentic Learning and Multimedia Can Enhance Teaching and Learning, History. In J. Luca & E. Weippl (Eds.), Proceedings of ED-MEDIA 2008--World Conference on Educational Multimedia, Hypermedia & Telecommunications (pp. 4152-4166). Vienna, Austria: Association for the Advancement of Computing in Education (AACE). Retrieved August 9, 2022 from https://www.learntechlib.org/primary/p/28963/.
Keywords
References
View References & Citations Map
Blane, D., & MacDonald, G.L. (2005). Final Go-Ahead for Digital Revolution. Times Education Supplement Scotland, 16 September, P.1.
Boud, D., & Feletti, G. (1997). Challenging Problem-Based Learning in David Boud and Graham Feletti (eds.) The Challenge of Problem-Based Learning, London, Kogan Page, pp.1-11.
Condie, R., & Munro, R.K. (2007). The Impact of ICT in Schools, Becta, Coventry. Correction News, (1995). Blackwell's Island. Available at: http://www.correctionhistory.org/html/chronicl/nydoc/html/blackwell.html Accessed 4 June 2007.
Cuban, L. (2001). Oversold and Underused, Computers in the Classroom, Cambridge, Massachusetts, Harvard University Press.
Devine, T. (1988). The Great Highland Famine, Edinburgh, John Donald.
Dicks, B. (1985). 'Choice and Restraint: Further Perspectives on Socio-Economic Segregation in Nineteenth Century Glasgow with Particular Reference to its West End', in George Gordon (ed.) Perspectives of the Scottish City, Aberdeen, Aberdeen University Press, pp.91-124.
Dryden, L.M. (1994). Literature, Student-Centred Classrooms and Hypermedia Environments. In Cynthia Selfe and Susan Hilligoss (eds.) Literacy and Computers: The Complications of Teaching and Learning with Technology, New York, Modern Language Association of America, pp.282-304.
Fabos, B., & Young, M. (1999). Telecommunications in the Classroom: Rhetoric versus Reality. Review of Educational Research 69, (3), pp.217-259.
Garthwait, A. (2207). Middle School Hypermedia Composition: A Qualitative Case Study. Journal of Educational Multimedia and Hypermedia, 16(4), pp.357-375.
Gordon, G. (1983). 'The Status Areas of Edinburgh in 1914' in George Gordon and Brian Dicks (eds.) Scottish Urban History, Aberdeen, Aberdeen University Press, pp.168-198.
Haydn, T., Arthur, J., & Hunt, M. (1997). Learning to Teach History in the Secondary School, London: Routledge.
Her Majesty'sInspectorate of Education. (2007). ICT in Learning and Teaching. Available at: http://www.hmie.gov.uk/documents/publications/iseictilat.pdf Accessed 11 June 2007.
Hutchison, J. (2005). Learning About the Civil War Through Soldiers' Letters. Social Education, 69 (6), pp.318322.
Iiyoshi, T., Hannafin, M., Wang, F. (2005). Cognitive Tools and Student-Centred Learning. Rethinking Tools, Functions and Applications. Educational Media International, 42 (4), pp.281-296.
Kozma, R.B. (2003). Technology and Classroom Practices: An International Study. Journal of Research on Technology in Education 36(1), pp.1-14.
Landow, G.P. (1992). Hypertext, The Convergence of Contemporary Critical Theory and Technology, Baltimore, John Hopkins University Press.
Learning and Teaching Scotland. (2007). Curriculum for Excellence. Principles for Curriculum Design. Available at: http://www.curriculumforexcellencescotland.gov.uk/about/essentialinformation/principles.asp Accessed 18 June
2007.Lee, J.K., & Clarke, W.G. (2004). Studying Local History in the Digital Age. The Story of Aspah Perry. Social Education, 68 (3), pp.203-207.
Lehrer, R. (1993). Authors of Knowledge: Patterns of Hypermedia Design in Susanne Lajoie and Sharon Derry (eds.) Computers as Cognitive Tools, New Jersey, Lawrence Erlbaum Associates, pp.197-227.
Munro, R.K. (1990). The Future of the Past: The Use of the Multisource Visual Database to Aid Historical Understanding in Evan Mawdsley, Nicholas Morgan, Lesley Richmond and Richard Trainor (eds.) History and Computing III, Manchester, Manchester University Press, pp.105-111.
OIiver, R., & Herrington, J. (2003). Exploring Technology– Mediated Learning from a Pedagogical Perspective. Journal of Interactive Learning Environments. 11 (2), pp.111-126.
Reeves, T.C. (1999). A Research Agenda for Interactive Learning in The New Millennium. Available at: http://it.coe.uga.edu/~treeves/EM99Key.html Accessed 11 June 2007.
Schick, J.B.M. (1996), Multi-Media: What, Why and Why Not? in Lehrers, J.P., Martin, M., and Hendrickx, F. (1996) (eds.) Information Technology for History Education, University of Luxembourg, Luxembourg, pp.235-251.
Scottish Qualifications Authority. (2007). Arrangements
Wild, M. (1989). History and the New Technologies in Schools: Problems, Possibilities and the Way Forward. In Peter Denley, Stefan Fogelvik and Charles Harvey (eds.) History and Computing II, Manchester University Press, pp.20-34.
These references have been extracted automatically and may have some errors. Signed in users can suggest corrections to these mistakes.
Suggest Corrections to References