You are here: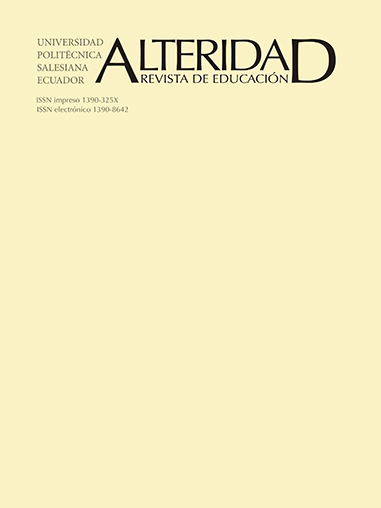 Families between educational and economic ends. The case of Chile
Español/Spanish

Las familias entre fines educativos y económicos. El caso de Chile
Português/Portuguese

As famílias entre fins educativos e econômicos. O caso do Chile.

Alteridad Volume 12, Number 1, ISSN 1390-8642 Publisher: Universidad Politécnica Salesiana of Ecuador, Quito, Ecuador
Abstract
This article is part of the process of problematization on the privatization of education in Latin America with a special focus on the Chilean case. It analyzes elements of the Latin American context in the middle of the 20th century when States promote the idea of human capital through the growth of their education systems and productivity as a State reason.The families of the continent grow the promise that through access to education the long-awaited social mobility will be achieved. We confirm that at the beginning of the 21st century this promise falls only on the shoulders of families being left to the market.We hold our argument under the analysis of various regulations affecting the Chilean educational system in the period between 1860 and 2008. In these we observe in particular the regulations in Educational Evaluation, which is marking this transit as a mechanism of government of the population, regulating socialflows, transferring through market tools, responsibility to families to choose between training purposes and academic results.Finally we conclude with some scope resulting from this phenomenon that forces the families to a double resignation. The economic waiver imposed by investment in education over other alternative projects. And the renunciation of leaving their own significant ways of relating to the interior of families, by adopting a culture of school success. This election reaffirms the matrix of colonial government installed on the family and at the same time makes it an efficient productive unit on an idea of neoliberal merit transmitted through assessment.
Español/Spanish:
Este artículo forma parte del proceso de problematización sobre la privatización de la educación en Latinoamérica con un especial enfoque sobre el caso chileno. Se analizan elementos del contexto Latinoamericano de medidas del siglo XX, cuando los Estados promueven la idea del capital humano por medio del crecimiento de sus sistemas educativos y la productividad como una razón de Estado. Crece en las familias del continente la promesa que por medio del acceso a la educación se encontraría la ansiada movilidad social. Confirmamos que para el inicio del siglo XXI esta promesa recae únicamente en los hombros de las familias quedando entregados al mercado   Sostenemos nuestra argumentación bajo el análisis de las diversas normativas que afectan al sistema educativo Chileno entre el periodo (1860-2008). En ellas observamos particularmente la normativa en Evaluación Educativa, que va marcando este tránsito como un mecanismo de gobierno de la población, regulando los flujos sociales, traspasando por medio de herramientas del mercado, la responsabilidad a las familias para escoger entre fines formativos y resultados académicos.Finalmente concluimos con algunos alcances producto de este fenómeno que obliga a las familias a una doble renuncia. La renuncia económica que impone la inversión en educación por sobre otros proyectos alternativos. Y la renuncia que implica dejar sus propias formas significativas de relacionarse al interior de las familias, por la adopción de una cultura del éxito escolar.
Español/Spanish PDF
Português/Portuguese:
Este artigo problematiza a privatização da educação no contexto latino-americano de meados do século XX, quando os Estados promovem a ideia de capital humano por meio do crescimento de seus sistemas educativos e a produtividade como uma razão de Estado. As famílias do continente creem na promessa que lhes assegura que, por meio do acesso à educação, encontrarão a esperada mobilidade social. Confirmamos que, para o início do século XXI, o cumprimento desta promessa recai unicamente sobre os ombros das famílias, ficando estas entregues ao mercado. Sustentamos nossa argumentação sob a análise das diversas normativas que afetam o sistema educativo chileno no período que vai de 1860 a 2008. Nelas observamos particularmente as normas relativas à avaliação educativa, que marca este período como um mecanismo de governo da população, regulando os fluxos sociais, transferindo às famílias, por meio de ferramentas de mercado, a responsabilidade da escolha entre fins formativos e resultados acadêmicos. Finalmente concluímos com alguns resultados deste fenômeno que obriga às famílias a uma dupla renúncia: a renúncia econômica que impõe o investimento em educação a despeito de outros projetos alternativos; e a renúncia que implica deixar suas próprias formas significativas de se relacionarem dentro das famílias, em consequência da adoção de uma cultura dos resultados escolares. Esta opção reafirma a matriz de governo colonial instalada sobre a família e a converte em uma unidade produtiva eficiente sobre uma ideia de mérito neoliberal transmitido por meio de avaliações. 
Citation
Olave, J. & Vélez de La Calle, C. (2017). Families between educational and economic ends. The case of Chile. Alteridad, 12(1), 43-54. Quito, Ecuador: Universidad Politécnica Salesiana of Ecuador. Retrieved April 20, 2021 from https://www.learntechlib.org/p/195288/.