You are here: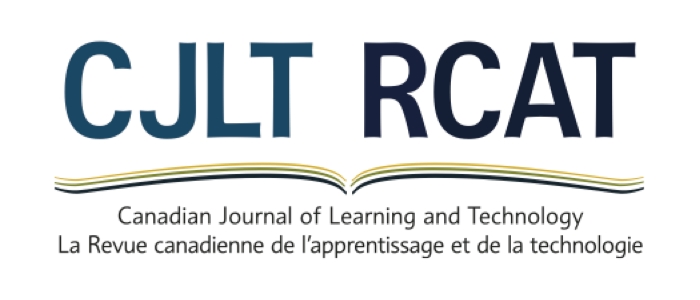 Teaching Competencies for the Online Environment
ARTICLE
français, langue française/French

Enseigner les compétences pour l'environnement en ligne

CJLT Volume 42, Number 3, ISSN 1499-6677 e-ISSN 1499-6677 Publisher: Canadian Network for Innovation in Education
Abstract
The goals of this study are to identify key competency areas that lead to success in online instruction and to develop a framework that supports professional development and self-assessment. To identify the key competency areas, skills and behaviours presented within current literature were analyzed. Secondly, gaps were identified and levels of competence were determined within each key competency area. The resulting analysis produced the Online Teaching Competency (OTC) Matrix including five competency areas: Community & Netiquette, Active Teaching/Facilitating, Instructional Design, Tools & Technology, and Leadership & Instruction. This leveled competency matrix can be used to inform professional development in the online teaching environment and is also a useful guide in the areas of self-assessment, portfolio design, and the development and evaluation of professional development opportunities.
français, langue française/French:
Cette étude a comme objectifs de cerner les principaux domaines de compétences qui mènent à la réussite de l'instruction en ligne et de développer un cadre qui soutient le développement professionnel et l'autoévaluation. Afin de cerner les principaux domaines de compétences, une analyse des aptitudes et comportements présentés dans les études actuelles a été réalisée. Deuxièmement, les écueils ont été cernés et les niveaux de compétence ont été déterminés au sein de chaque domaine de compétences. L'analyse qui en a résulté a généré la matrice des compétences de l'enseignement en ligne, comprenant cinq domaines de compétences : collectivité et nétiquette, enseignement actif/animation active, conception de l'instruction, outils et technologie, ainsi que leadership et instruction. Cette matrice graduée peut servir à façonner le développement professionnel dans un environnement d'enseignement en ligne. Elle sert aussi de guide pratique pour les domaines de l'auto-évaluation, de la conception de portfolio et du développement et de l'évaluation des occasions de développement professionnel.
Citation
Farmer, H. & Ramsdale, J. (2016). Teaching Competencies for the Online Environment. Canadian Journal of Learning and Technology / La revue canadienne de l'apprentissage et de la technologie, 42(3),. Canadian Network for Innovation in Education. Retrieved April 10, 2020 from https://www.learntechlib.org/p/178060/.
Keywords
References
View References & Citations Map
Albanese, M.A., Mejicano, G., Mullan, P., Kokotailo, P., & Gruppen, L. (2008). Defining characteristics of educational competencies. Medical Education, 42(3), 248-255.

Anderson, T., Rourke, L., Garrison, D., & Archer, W. (2001). Assessing teaching presence in a computer conferencing context. The Journal of Asynchronous Leaning Networks, 5(2), 1-17. Retrieved from http://auspace.athabascau.ca/handle/2149/725

Berge, Z. (1995). The role of the online instructor/facilitator. Educational Technology, 35(1), 2230.

Canada School of Public Service. (2012). Key leadership competencies. Retrieved April 15, 2013 from http://www.csps-efpc.gc.ca/cat/comp-eng.asp

Caplan, D. (2008). The development of online courses. In T. Anderson& F. Elloumi (Eds.), Theory and practice of online learning (pp. 45-74). Retrieved from

Chickering, A., & Gamson, Z. (1987, March). Seven principles for good practice in undergraduate education. AHSE Bulletin, 3-7. Retrieved from http://files.eric.ed.gov/fulltext/ED282491.pdf

Dahlstrom, E. (2012). ECAR study of undergraduate students and information technology. Louisville, CO: Educause Center for Applied Research. Retrieved from https://net.educause.edu/ir/library/pdf/ERS1208/ERS1208.pdf

Hill, P. (2012). Online educational delivery models: A descriptive view. Educause Review, 47(6), 85-97. Retrieved from: http://er.dut.ac.za/handle/123456789/56
Hoffmann, T. (1999). The meanings of competency. Journal of European Industrial Training, 23(6), 275-286.

Ontario College of Teachers. (2007). Ontario College of Teachers Dimensions of Practice. Retrieved March 3, 2013 from http://www.oct.ca/~/media/PDF/Living%20the%20Standard%20Booklets/Living_Stand Ards_Booklet_6_EN_web.ashx

Schilling, J.F., & Koetting, J.R. (2010). Underpinnings of competency-based education. Athletic Training Education Journal, 5(4), 165-169. Retrieved from http://nataej.org/5.4/ATEJ5-4.pdf

Smith, T.C. (2005). Fifty-one competencies for online instruction. The Journal of Educators Online 2(2). Retrieved from http://www.thejeo.com/Ted%20Smith%20Final.pdf

Spady, W.G. (1977). Competency based education: A bandwagon in search of a definition. Educational Researcher, 6(1), 9-14. Retrieved from http://www.jstor.org/stable/1175451

Stoltz-Loike, M. (2013). Incentives and training. Inside Higher ED. Retrieved from http://www.insidehighered.com/advice/2013/12/18/essay-incentives-and-trainingteaching-online

Thomas, P.A. (2014, January 6). All set to teach gen Y. The New Indian Express. Http://www.newindianexpress.com/education/edex/All-Set-to-Teach-GenY/2014/01/06/article1981089.ece
These references have been extracted automatically and may have some errors. Signed in users can suggest corrections to these mistakes.
Suggest Corrections to References