You are here: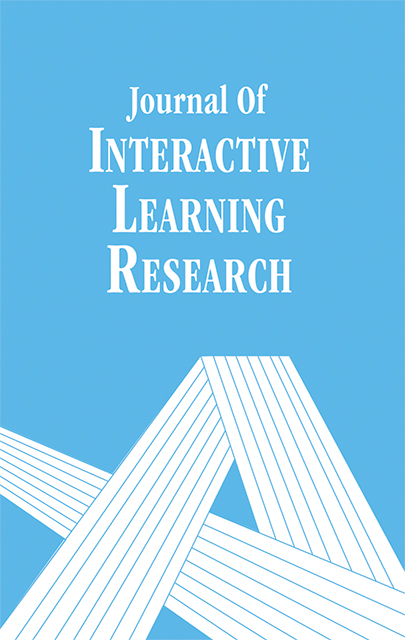 Exploring Students' Acceptance of Using Mobile Device-based Student Response System in Classrooms
Simon Wong, aHong Kong Community College, The Hong Kong Polytechnic University, Hong Kong ; Adam Wong, bSchool of Professional Education and Executive Development, The Hong Kong Polytechnic University, Hong Kong ; John Yeung, Data Science Academy, Hong Kong
Journal of Interactive Learning Research Volume 30, Number 1, ISSN 1093-023X Publisher: Association for the Advancement of Computing in Education (AACE), Waynesville, NC
Abstract
This study adopts quantitative approach to compare the students' perceptions in terms of perceived usefulness (PU) and perceived ease of use (PE) of using mobile device-based student response system (SRS) and to investigate the difference in the effects of contributing factors on the students' perceptions at two higher education institutions in Hong Kong. Seventy-eight students were sampled from the two institutions which represent students at their early and final stages of study. The significance of this study is that its findings can help the education management to implement mobile device-based SRS for learning in classrooms at different stages of study. An online survey was conducted to capture the students' perceptions and their contributing factors. The Kruskal-Wallis test results showed that there was no significant difference between the students' perceptions in these two institutions. Multiple regression analysis was then performed to investigate whether other factors that contribute to PU and PE, as those in combining Park, Nam and Cha's (2012) and Venkatesh and Davis' (2000) models, are different in the two groups. The results revealed that the effect of PE on PU and the effect of self-efficacy on PE were larger at the early stage of study.
Citation
Wong, S., Wong, A. & Yeung, J. (2019). Exploring Students' Acceptance of Using Mobile Device-based Student Response System in Classrooms. Journal of Interactive Learning Research, 30(1), 45-64. Waynesville, NC: Association for the Advancement of Computing in Education (AACE). Retrieved October 4, 2023 from https://www.learntechlib.org/primary/p/174264/.
References
View References & Citations Map
Bailenson, J.N., Yee, N., Blascovich, J., Beall, A.C., Lundblad, N., & Jin, M.(2008). The use of immersive virtual reality in the learning sciences: Digital transformations of teachers, students, and social context. Journal of the Learning Sciences, 17, 102-141. Doi:10.1080/10508400701793141
Christensen, R., Tyler-Wood, T., Knezek, G., and Gibson, D. (2011). SimSchool: An online dynamic simulator for enhancing teacher preparation, International Journal of Learning Technology, 6, 201–220.
Coffield, F., Moseley, D., Hall, E., & Ecclestone, K. (2004). Learning styles and pedagogy in post-16 learning: a systematic and critical review. London: Learning and Skills Research Centre. ISBN 1853389188. OCLC 505325671
Duncan, A. (2009). Teacher preparation: Reforming the uncertain profession— Remarks of Secretary Arne Duncan at Teachers College, Columbia University. Retrieved October 10, 2016 from http://www.ed.goz/news/speeches/ Teacher-preparation-reforming-uncertain-profession
Fitzgerald, G., Koury, K., Mitchem, K., Hollingsead, C., Miller, K., Park, M.K., & Tsai, H. (2009). Implementing case-based instruction in higher education through technology: What works best? Journal of Technology and Teacher Education, 17(1), 31-63.
Franklin, T. & Annetta, L. (2011). PREFACE Special Issue: Digital games and simulations in teacher preparation. Journal of Technology and Teacher Education, 19, 239-242. Chesapeake, VA: Society for Information Technology& Teacher Education.
Gersten, R., Fuchs, L.S., Compton, D., Coyne, M., Greenwood, C., & Innocenti, M.S. (2005). Quality indicators for group experimental and quasi-experimental research in special education. Exceptional Children, 71, 149-164.
Griffen, C.C., Fang, Z., Bishop, A.G., & Halsall, S. (2005). The field experiences: Teaching in partnership with schools and community. In Bondy, E. & D.D. Ross (Eds.), Preparing For Inclusive Teaching: Meeting the Challenges of Teacher Education Reform, (pp. 83-97). Albany: State University
Jiyoon, Y. (2008). Cyber practicum: A future practicum classroom. British Journal of Educational Technology, 39, 163-165.
Kim, P.W., Shin, Y.S., Ha, B.H., & Anisetti, M. (2017). Effects of avatar character performances in virtual reality dramas used for teachers' education. Behaviour& Information Technology, 36, 699-712.
Kaufman, D., & Ireland, A. (2016). Enhancing teacher education with simulations. Techtrends: Linking Research And Practice To Improve Learning, 60, 260-267.
Ludlow, B.L., Keramidas, C.G., & Landers, E.J. (2007). Project STARS: Using desktop conferencing to prepare autism specialists at a distance. Rural Special Education Quarterly, 26(4), 27-35.
Mahon, J., Bryant, B., Brown, B., & Kim, M. (2010). Using Second Life to enhance classroom management practice in teacher education. Educational Media International, 47, 121-134.
Mishra, P., & Koehler, M. (2006). Technological pedagogical content knowledge: A framework for integrating technology in teacher knowledge. Teachers College Record, 108, 1017-1054.
Moore, J.L., Dickson-Deane, C., & Galyen, K. (2011). E-Learning, online learning, and distance learning environments: Are they the same? The Internet and Higher Education, 14, 129–135. Doi:10.1016/J.iheduc.2010.10.001*Passig,D.(2011).Theimpact of immersive virtual reality on educators' awareness of the cognitive experiences of pupils with dyslexia. Teachers College Record, 113, 181-204.
Scheeler, M.C., McKinnon, K., & Stout, J. (2012). Effects of immediate feedback delivered via webcam and bug-in-ear technology on preservice teacher performance Teacher Education and Special Education, 35(1), 77-90.
Schultheis, M.T., & Rizzo, A.A. (2001). The application of virtual reality technology in rehabilitation. Rehabilitation Psychology, 46, 296-311.
Warschauer, M., & Matuchniak, T. (2010). New technology and digital worlds:
These references have been extracted automatically and may have some errors. Signed in users can suggest corrections to these mistakes.
Suggest Corrections to References