You are here: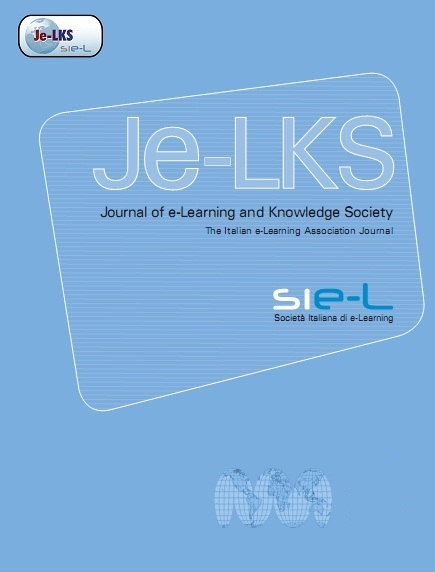 Gamification and learning: a review of issues and research
ARTICLE
Journal of e-Learning and Knowledge Society Volume 11, Number 3, ISSN 1826-6223 e-ISSN 1826-6223 Publisher: Italian e-Learning Association
Abstract
This paper will review the literature on gamification and aim to apply principles of analysis for synthesize existing research, identify issues of controversy, uncover areas that future gamification research should investigate. The paper starts with an introductory paragraph which gives an overview of the topic (i.e., define the concept, identify the characteristic components, discuss about the elements of a gamified experience). Then, the attention is focused on gamified learning, in order to investigate what happens when gamification is introduced in class, especially on student's motivation, engagement, and performances. The last part focuses on the lines of research to be pursued in the area of gamification and suggestions are made regarding those aspects which would benefit most from future research.
Citation
Faiella, F. & Ricciardi, M. (2015). Gamification and learning: a review of issues and research. Journal of e-Learning and Knowledge Society, 11(3),. Italian e-Learning Association. Retrieved March 29, 2020 from https://www.learntechlib.org/p/151920/.
Keywords
References
View References & Citations Map
Apostol S., Zaharescu L., Alexe I. (2013), Gamification of Learning and Educational Games, in: 9th. International Scientific Conference eLearning and software for Education, Bucharest, April 25-26, 67-72.

Barata G., GamaS., Jorge J., Gonçalves (2015), Identifying Student Types in a Gamified Learning Experience, in: Gamification: concepts, Methodologies, Tools, and Applications (pp. 541-558), Hershey, IGI Global.

Barata G., GamaS., Jorge J., Gonçalves D. (2013), Engaging engineering students with gamification, in: Proceedings of the fifth International Conference on Games and Virtual Worlds for Serious Applications (pp. 24–31).

Buckley P., Doyle E. (2014), Gamification and student motivation, Interactive Learning Environments, 1-14.

Caillois R. (2001), Man, Play and Games. Urbana: Chicago,University of Illinois Press.

Cheong C., Cheong F., Filippou J. (2013), Quick Quiz: A Gamified Approach for Enhancing Learning, in: PACIS 2013 Proceedings. Paper 206.

Connolly T.M., Boyle E.A., MacArthur E., Hainey T., Boyle J. (2012), A systematic literature review of empirical evidence on computer games and serious games. Computer& Education, 59(2), 661-686.

De Sousa Borges S., Durelli V.H.S., Macedo Reis H., Isotani S. (2014), A Systematic Mapping on Gamification Applied to Education, in: Proceedings of the 29th Annual ACM Symposium on Applied Computing (SAC '14), 216-222.

Domínguez A., Saenz-de-Navarrete J., de-Marcos L., Fernández-Sanz L., PagésC., Martínez-Herráiz J.J. (2013), Gamifying learning experiences: Practical implications and outcomes, Computer& Education, 63, 380-392.

Dichev C., Dicheva D., Angelova G., Agre G. (2014), From Gamification to Gameful Design and Gameful Experience in Learning, Cybernetics and Information Technologies, 14(4), 80-100.

Eickhoff C., Harris C.G., de Vries A.P. (2012), Quality through Flow and Immersion: Gamifying Crowdsourced Relevance Assessments, in: Proceeding of SIGIR'12, Portland, Oregon.

Hamari J., Koivisto J. (2014), Measuring flow in gamification: Dispositional flow scale-2, Computers in Human Behavior, 40, 133-143.

Hanus M.D., Fox J. (2015), Assessing the effects of gamification in the classroom: A longitudinal study on intrinsic motivation, social comparison, satisfaction, effort, and academic performance, Computer& Education, 80, 152-161.

Johnson L., Adams Becker S., Estrada V., Freeman A. (2014), NMC Horizon Report: 2014 K-12 Edition, Austin, The New Media Consortium.

Kapp K.M. (2007), Tools and Techniques for Transferring Know-How from Boomers to Gamers. Global Business and Organizational Excellence, 26(5), 22-37.

Kapp K.M. (2012), The gamification of learning and instruction, San Francisco, Pfeiffer.

Ke F. (2009), A Qualitative Meta-Analysis of Computer Games as Learning Tools, in: Ferdig R.E. (Ed.), Effective Electronic Gaming in Education (pp. 1-32). Hershey,

Lee J.J., Hammer J. (2011), Gamification in Education: What, How, Why Bother? Academic Exchange Quarterly, 15(2).

Marczewski A. (2012), Gamification: A Simple Introduction, Raleigh, Lulu.

Mollick E.R., Rothbard N. (2014), Mandatory Fun: Consent, Gamification and the Impact of Games at Work. The Wharton School Research Paper Series.

Morris B.J., Croker S., Zimmerman C., Gill D., Romig C. (2013), Gaming science: the "Gamification" of scientific thinking, Developmental Psychology, 4, 1-16.

Oblinger D. (2004), The Next Generation of Educational Engagement, Journal of Interactive Media in Education, 8(1), 1-18.

Perrotta C., Featherstone G., Aston H., Houghton E. (2013), Game-based Learning: Latest Evidence and Future Directions, Slough, NFER.

Simões J., Díaz Redondo R., Vilas A.F. (2013), A social gamification framework for a K-6 learning platform, Computers in Human Behavior, 29, 345-353.

Sitzmann T. (2011), A Meta-Analytic Examination of the Instructional Effectiveness of Computer-Based Simulation Games, Personnel Psychology, 64(2), 489-528.
These references have been extracted automatically and may have some errors. Signed in users can suggest corrections to these mistakes.
Suggest Corrections to References