You are here: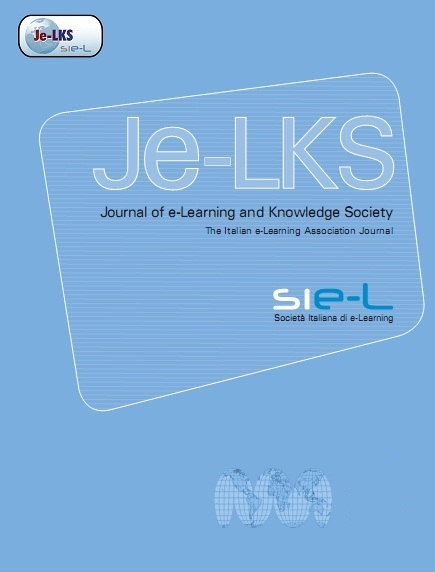 Exploring Co-creation of Educational Videos in an International Collaborative Context
ARTICLE
Blair Stevenson, Janne Lnsitie, Oulu University of Applied Sciences ; Christian Kogler, Pedagogical University of Upper Austria ; Petra Bauer, Johannes Gutenberg – University of Mainz
Journal of e-Learning and Knowledge Society Volume 11, Number 2, ISSN 1826-6223 e-ISSN 1826-6223 Publisher: Italian e-Learning Association
Abstract
The following paper introduces an innovative international collaboration in teacher education held in 2014. This event, described as an educational video challenge, was organized as a 72 hour, hackathon-style educational experience in which university-level students worked together in teams to co-create educational videos. The objective of the challenge event was to encourage teacher students to explore the design and use of educational videos for use in their teaching practice. The challenge was simultaneously held at three universities in Finland, Austria and Germany and culminated in the screening of completed student-generated videos. The majority of videos produced during the event were trigger videos, while findings from a preliminary assessment conducted with participants suggest that an educational video challenge format shows promise as an effective method for enhancing skills associated with teaching through video and engaging participants in dialogue connected to practice.
Citation
Stevenson, B., Lnsitie, J., Kogler, C. & Bauer, P. (2015). Exploring Co-creation of Educational Videos in an International Collaborative Context. Journal of e-Learning and Knowledge Society, 11(2),. Italian e-Learning Association. Retrieved September 25, 2020 from https://www.learntechlib.org/p/151067/.
Keywords
References
View References & Citations Map
Calandra B. (2015), A Process of Guided, Video-based Reflection. In Digital Video for Teacher Education: Research and Practice, In B. Calandra and P. Rich, eds 36-53.

Dickinson G. & Summers E.J. (2010), (Re)Anchored, Video-centered Engagement: The Transferability of Pre-service Training to Practice. Contemporary Issues in Technology and Teacher Education, 10(1), 106–118.

Haw K. & Hadfield M. (2011), Video in Social Science Research. New York: Routledge. Lussi Borer V. Ria L. Durand M. Muller A. (2014), How Do Teachers Appropriate Learning Objects Through Critical Experiences? A Study of a Pilot In-School Collaborative Video Learning Lab, Open Journal per la formazione in rete, 2(14), 63-74.

Lyle J. (2003), Stimulated Recall: a Report on its Use in Naturalistic Research. British Educational Research Journal 29 (6), 861-878.

Masson E. (2012), Watch and Learn: Rhetorical Devices in Classroom Films after 1940. Amsterdam: Amsterdam University Press. Owston R. Lupshenyuk D. & Wideman H. (2011) , Lecture capture in large undergraduate classes: student perceptions and academic performance. The Internet and Higher Education, 14(4), 262-268.

Schwartz D. & Hartman K. (2007), It's Not Television Anymore: Designing Digital Video for Learning and Assessment. In R. Goldman, R. Pea, B. Barron& S.J. Derry eds Video Research in the Learning Sciences 335-348. Mahwah, NJ: Laurence Erlbaum Associates.

Sherin M. & Van Es E. (2009), Effects of video club participation on teachers' professional vision. Journal of Teacher Education, 60(1), 20-37.

Sloper D. (1984), Management Development for Academics: Reflections on a Trigger Film Evaluation by Administrators. Journal of Tertiary Education Administration, 6(2), 129–141.

Tripp T. & Rich P. (2012), Using video to analyze one's own teaching. British Journal of Educational Technology, 43(4), 678-704.

Van Es E. & Sherin M. (2009), The influence of video clubs on teachers' thinking and practice. Journal of Mathematics Teacher Education, 13(2), 155-176.
These references have been extracted automatically and may have some errors. Signed in users can suggest corrections to these mistakes.
Suggest Corrections to References