You are here: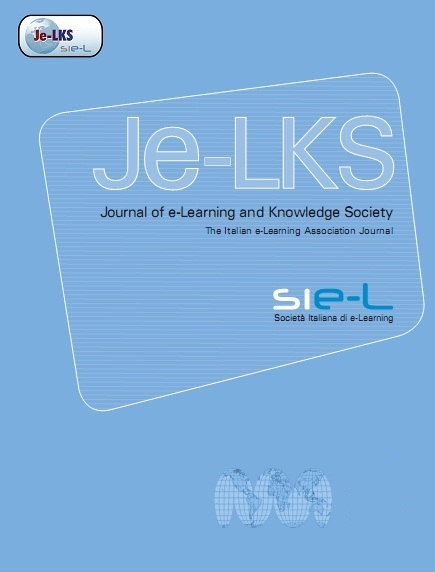 Smart Learning Eco-Systems: "fashion" or "beef"?
ARTICLE
Journal of e-Learning and Knowledge Society Volume 10, Number 3, ISSN 1826-6223 e-ISSN 1826-6223 Publisher: Italian e-Learning Association
Abstract
This article proposes to identify the smartness of a learning eco-system - physical and/or virtual - with its attractiveness that, in a people in place centered perspective, can be put in relation with the ability of the eco- system to meet needs and expectations of all categories of actors taking part in a given learning process and, finally, with the achievement of their state of "flow". To follow, as an example of application of the concept of smart learning ecosystem, we present a brief description of salient aspects and features that characterize one of the most promising domain of investigation emerged recently - the smart city learning - together with a list of challenges and possible directions of research.
Citation
Giovannella, C. (2014). Smart Learning Eco-Systems: "fashion" or "beef"?. Journal of e-Learning and Knowledge Society, 10(3),. Italian e-Learning Association. Retrieved November 18, 2019 from https://www.learntechlib.org/p/150733/.
References
View References & Citations Map
Czisikszentmihalyi M. (1990), Flow-The Psychology of Optimal Experience. Harper& Row EC-TEL 2014 (2014), see papers accepted to be presented at the workshop "Smart City Learning: opportunities and challenges", EC-TEL 2014, Graz http://www.mifav.uniroma2.it/inevent/events/sclo_ectel2014/index.php?s=192 (Retrieved on August 2014)

Folke C., Carpenter S.R., Walker B., Scheffer M., Chapin T., Rockström J. (2010), Resilience thinking: integrating resilience, adaptability and transformability. Ecology and Society 15(4): 20 URL: http://www.ecologyandsociety.org/vol15/iss4/ Art20/2010 (Retrieved on August 2014)

Giffinger R., Fertner C., Kramar H., Pichler-Milanovic N., Meijers E. (2007), Smart cities. Ranking ofEuropean medium-sized cities, http://www.smart-cities.eu/pressressources.html ,

Giovannella C., Dascalu M., Scaccia F. (2014), Smart City Analytics: state of the art and future perspectives, IxD & A Journal, N. 20, pp. 72--87

Glaeser E.L, Berry C.R. (2006), Why are smart places getting smarter?, Taubman Cente Policy Brief (Cambridge MA: Taubman Centre). 2006-2 http://www.hks.harvard.edu/var/ezp_site/storage/fckeditor/file/pdfs/centers-programs/ Centers/taubman/brief_divergence.pdf (retrieved on August 2014)

HSC (2013), for a "human smart city" vision see http://www.peripheria.eu/library, Retrieved on Aug. 2014 (get inspiration also from the Human Centered Design Vision by IDEO https://hcd-connectproduction.s3.amazonaws.com/toolkit/en/download/

MIT (2011), Sentient City: Ubiquitous Computing, Architecture, and the Future of Urban Space, Mark Shepard ed., MIT Press

PiPC (2008), The origin of the "Person in Place Centered Design" vision is documented in Giovannella C. (2008) Person-in-Place Centered design:educare 'istructional designer ' e operatori dei futuri learning places, in Didamatica 2008, ed. By A. Andronico, T. Roselli, B. Lamborghini, Bari, 2008, P. 973 and later in Giovannella

Tuvendal M., Elmqvist T. (2012), Response strategy assessment: a tool for evaluating resilience for the management of social-ecological systems. In: Plieninger, T., Bieling, C. (eds.) Resilience and the Cultural Landscape, Cambridge University Press, pp. 224-241
These references have been extracted automatically and may have some errors. Signed in users can suggest corrections to these mistakes.
Suggest Corrections to References