You are here: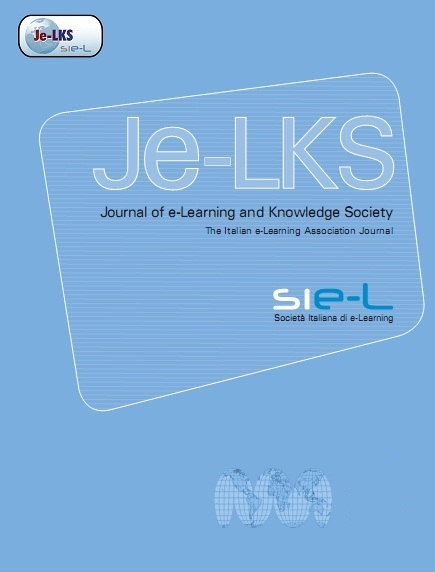 Using web-radio in mobile-learning
ARTICLE
Journal of e-Learning and Knowledge Society Volume 10, Number 3, ISSN 1826-6223 e-ISSN 1826-6223 Publisher: Italian e-Learning Association
Abstract
The diffusion of modern mobile devices and applications coupled with the pervasive use of social network services and communications tools, are dramatically changing the way people work, live and learn. In this perspective, this work will discuss an innovative proposal, to be considered as a new paradigm in mobile learning. In particular, we present the use of a Web-radio channel as an educational tool in a mobile-learning environment. Such a medium has unique characteristics of an interactive tool and, furthermore, interaction among users can be enabled by the integration with social networking. Therefore, given the special characteristics of such a medium, it is quite natural to design educational activities relying on social networking, which can be implemented in a mobile environment, according to a novel Web-radio social networking mobile education model.
Citation
Coccoli, M. (2014). Using web-radio in mobile-learning. Journal of e-Learning and Knowledge Society, 10(3),. Italian e-Learning Association. Retrieved November 11, 2019 from https://www.learntechlib.org/p/150730/.
Keywords
References
View References & Citations Map
Adorni, G., Coccoli, M., Fadda, C., and Veltri, L. (2007), Audio and videoconferencing tools in learning management systems, Proc. Of the 3rd International Conference on Automatic Production of Cross Media Content for Multi-channel Distribution-AXMEDIS 2007, pp. 123-129, IEEE Computer Society.

Adorni, G., Battigelli, S., Coccoli, M. (2007), Beyond learning management systems in lifelong learning. Proc. Of 13th Int. Conf. On Distributed Multimedia Systems, International Workshop on Distance Education Technologies, DMS-DET 2007, pp. 159-164.

Baccigalupo, C., Plaza, E. (2007), Sharing and combining listening experience: a social approach to web radio. Proc. Of the 2007 Int. Computer Music Conf., pp. 228–231.

Bellanti, E., Denurchis, N. (2010), Campuswave. La web radio del nostro Campus: organizzazione, gestione e programmi; streaming, produzione e servizi web. Master thesis, in Italian.

Berry, R. (2006), Will the iPod kill the radio star? Profiling podcasting as radio. International Journal of Research Into New Media Technologies, Vol. 12, No. 2.

Bianco, C., Coccoli, M., Vercelli, G. (2009), Mobile learning per servizi orientati alla formazione. Atti del convegno DIDAMATICA 2009: Informatica per la didattica.

Caviglione, L. And Coccoli, M. (2011), Privacy problems with Web 2.0, Computer Fraud and Security, Vol. 2011, No. 10, pp. 16-19, Oct. 2011, Elsevier.

Caviglione, L., Coccoli, M., and Gianuzzi, V. (2011), Opportunities, Integration and Issues of Applying new Technologies over e-Learning Platforms, Proc. Of the 3rd Int. Conf. On Next Generation Networks and Services, pp. 12-17, Hammamet, Tunisian

Downes, S. (2005), E-learning 2.0. ACM eLearn, Vol. 10.

Evans, C. (2008), The effectiveness of m-learning in the form of podcast revision lectures in higher education. Computers& Education, Vol. 50, pp. 491–498.

Ip, A., Morrison, I., Currie, M. (2001), What is a learning object, technically? Proc. Of WebNet 2001. Orlando, USA.

Jenkins, H. (2004), The cultural logic of media convergence. International Journal of Cultural Studies, Vol. 7, No. 1, pp. 33-43.

Lee, E. (2005), How internet radio change the world. New York, iUniverse.

Lee, M.J.W., Chan, A., McLoughlin, C. (2006), Students as producers: second year students' experiences as podcasters of content for first year undergraduates. Proc. Of the 7th Int. Conf. On Information Technology Based Higher Education and Training, pp. 832-841.

Lonn, S., Teasley, S.D. (2009), Podcasting in higher education: What are the implications for teaching and learning? Internet and Higher Education, Vol. 12, pp. 88–92.

Morisse, K., Ramm, M., Schuler, T., Wichelhaus, S. (2009), A mobile blended learning approach based on podcasts with respect to the students' media literacy. Proc. Of the Int. Conf. On Mobile, Hybrid, and On-line Learning, pp. 41-46.

Moura, A., Carvalho, A.A. (2008), Mobile learning: teaching and learning with mobile phones and podcasts. Proc. Of the 8th IEEE Int. Conf. On Advanced Learning Technologies, pp. 631-633.

Portanova, M. (2009), Radio Web kills the TV star, Wired, No. 9, pp. 130-137. Premkumar, G.P. (2003) , Alternate distributions trategies ford ig i ta l music. Communications of the ACM, Vol. 46, No. 9, pp. 89-95.

Priestman, C. (2002), Web Radio– radio production for Internet streaming. Oxford, Focal Press.

Teixeira, M.M., Silva, B.D. (2009), Radio-learning: a new tendency of web radio. Proc. Of the 5th Int. Conf. On Open& Distance Learning– November 2009, Athens, Greece, pp. 16-28.

Umi Hanim, M.I., Mazlan, Z., Halimatolhanin, M.K. (2009), iRadio OUM-The development of educational internet radio to enhance open and distance learning. Proc. Of ICI9 – Int. Conf. On Information.
These references have been extracted automatically and may have some errors. Signed in users can suggest corrections to these mistakes.
Suggest Corrections to References