You are here: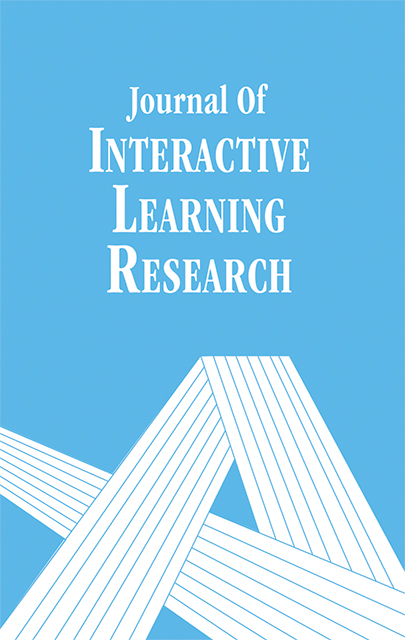 Knowledge and Information Flows in a Hybrid Learning Space: the students' perceptions
ARTICLE
Guglielmo Trentin, Institute for Educational Technology - National Research Council, Italy
Journal of Interactive Learning Research Volume 26, Number 4, ISSN 1093-023X Publisher: Association for the Advancement of Computing in Education (AACE), Waynesville, NC
Abstract
When proposing group activities to students with a view to fostering collaborative learning in a hybrid learning space, we often ourselves about the relative amounts of information and knowledge which flow in the interaction, both among the group members and from the external information and knowledge sources. Also about which stages of the collaborative process have the highest indexes of knowledge flow and information flow, respectively. The experiment described below has tried to answer these questions. It involved 66 students from the University of Turin who, after receiving a lecture on online communities of professionals and some suggestions for basic reading, were asked to collectively develop an artefact (specifically, a wiki) which would summarise what had been learnt. Both in the study phases, and in the phases of the structuring and collaborative development of the artefact, the students were asked to provide a quantitative and qualitative estimate of the information and knowledge flows characterising the different stages of the experiment. It emerged that the stages of study and structuring of the artefact were those with the highest knowledge flow index, while in the actual writing of the artefact there was a predominance of information flows.
Citation
Trentin, G. (2015). Knowledge and Information Flows in a Hybrid Learning Space: the students' perceptions. Journal of Interactive Learning Research, 26(4), 403-429. Waynesville, NC: Association for the Advancement of Computing in Education (AACE). Retrieved June 8, 2023 from https://www.learntechlib.org/primary/p/148019/.
Keywords
References
View References & Citations Map
Ausubel, D.P. (1963). The psychology of meaningful verbal learning. New York: Grune and Stratton. Biuk-Aghai, R.P. (2003). An information model of virtual collaboration. In Proceeding of Information Reuse and Integration, ieee international Conference, 2003. Retrieved February 28, 2009, from http://ieeexplore.ieee.org/ Xpl/freeabs_all.jsp?arnumber=1251405.
Diaper, D., & Sanger, C. (eds.) (1993). CSCW in Practice: an Introduction and Case Studies. London: Springer-Verlag. Gagné, R.M. (1985). The Conditions of Learning and Theory of Instruction. New York: Holt, rinehart and Winston.
Jones, W. (2010). No knowledge but through information. First Monday, 15(9). Retrieved September 18, 2012, from http://firstmonday.org/ojs/index.php/ Fm/article/view/3062/2600.
Judd, T., Kennedy, G., & Cropper, S. (2010). Using wikis for collaborative learning: Assessing collaboration through contribution. Australasian Journal of Educational Technology, 26(3), 341-354.
Piaget, J. (1977). Problems of equilibration. In M.H. Appel, & L.S. Goldberg (eds.), Topics in cognitive development, (3-14). New York: Plenum. Rowley, J. (2007). The wisdom hierarchy: representations of the DiKW hierarchy Science, 33(2). Retrieved June 12, 2010, from http://jis.sagepub.com/ Content/33/2/163.abstract.
Stahl, G. (2000). A model of Collaborative Knowledge-Building. In B. Fishman& S.O'Connor-Divelbiss (eds.), Proceedings of the Fourth International Conference of the Learning Sciences (pp. 70-77). Mahwah, nJ: lawrence
Trentin G. (2009). Using a Wiki to evaluate individual Contribution to a Collaborative learning Project. Journal of Computer Assisted Learning, 25(1), Knowledge and Information Flows in a Hybrid Learning Space 429
Trentin, G. (2010). Networked Collaborative Learning: social interaction and active learning. Woodhead/Chandos Publishing limited, Cambridge. Trentin G. (2011a). Conclusive thought on communication flow, knowledge flow and informal learning. In G. Trentin (ed.), Technology and Knowledge Flow: the power of networks (pp. 157-165). Cambridge, uK: Chandos Publishing
These references have been extracted automatically and may have some errors. Signed in users can suggest corrections to these mistakes.
Suggest Corrections to References